Our area offers a deep history. Federal House Inn is ideally located to explore the many Berkshires historical attractions to be found in this region.  Make our bed and breakfast your home base for discovering or rediscovering Berkshire history.
Recommended Berkshires Historical Attractions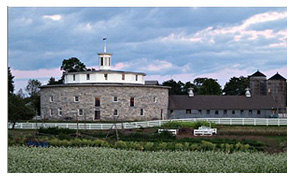 Chesterwood – Stockbridge
Beautiful estate and home of Daniel Chester French, sculptor of the Lincoln Memorial. Visit the studio, garden, woodland walk, museum shop.
Hancock Shaker Village – Hancock
200-year-old original Shaker village. 21 historic buildings, Shaker furniture, round stone barn and craft demonstrations. Informative tours daily.
Naumkeg – Stockbridge
Site of the famous Blue Steps and gardens designed by Fletcher Steele and the 1864 Choate family mansion. Original art and furnishings.
Arrowhead, Home of Herman Melville – Pittsfield
18th century farmhouse where Melville wrote Moby-Dick. National Historic Landmark. Tours, gift shop.
Ventford Hall – Lenox
Mansion and museum carries the gilded age into the future with tours, exhibits, programs, events.
Friends of Du Bois Homesite – Great Barrington
Working with UMass/Amherst to restore the National Historic Landmark to the Great Barrington native, leading scholar and civil rights activist.
Mission House – Lenox
Where Stockbridge began. This c. 1740 National Historic Landmark, tells of Colonial era Stockbridge-both English and Mohican. Gardens.
The Mount – Lenox
Elegant 1902 mansion and gardens designed by Edith Wharton. Main rooms designed by leading designers. Tours/cafe/shop.
Bidwell House Museum – Monterey
A perfect example of a New England country home in its feeling, appearance and continuing daily life [18/19th century furnishings, heirloom flower and vegetable gardens]
Upper Housatonic Valley African American Heritage Trail – Berkshire County/NW Connecticut
48 sites celebrate black luminaries-W.E.B Du Bois, Reverend Harrison, Mum Bett/Elizabeth Freeman and others. Tours.
Ashley House – Ashley Falls
Part of the African American Heritage Trail. Colonel Ashley owned 2,000 acres, mills and slaves. Here Elizabeth Freeman sued for her freedom from slavery and changed history.
The Edna St. Vincent Millay Society – Austerlitz, NY
The Berkshire author's historic house and gardens, a museum in the works. Millay Poetry Trail/special events
Susan B. Anthony Birthplace Museum – Adams
Historic restoration 1817 Quaker homestead of famed women's rights advocate. Tours, picnic area.
National Shrine of The Devine Mercy – Stockbridge
Daily mass, confessions, chapel, grotto, scenic vistas.
You'll return "home" at the end of your day's exploration of Berkshires historical attractions and be able to relax and reflect at our elegant bed and breakfast inn.